RECITAL 2016

The preparations are moving along for our annual recital. Class routines are being decided and costumes chosen. Detail sheets and balances due will be mailed in mid-November. Please read these sheets carefully and call Miss Jessica right away if you have any questions. Save the information for reference and note the exact amount due. Additional information will be posted on our website (http://www.NiagaraDance.com) during the Winter Break.
Our recital is tentatively set for a Saturday, June 4th, 2016

Stage rehearsal is tentatively set for Thursday, May 26th, 2016
THINK AHEAD – THINK COSTUME DEPOSITS!
Every effort is made to keep costume costs down and to minimize work (we do NOT require you to sew on reams of extra sequins or glue on rhinestones.) However, costumes do cost money and you need to plan ahead. Costume prices have gone up again this year! The average costume prices have ranged as follows:
YOUNG CHILDREN between $50-$60 per outfit before tax

PRETEEN between $55-$70 per outfit before tax

TEEN/ADULT between $65-$80 per outfit before tax
As stated on our registration form, all costume balances are due before Winter Break – no exceptions. Costumes are made to order and we must pay for them in full up front. Costumes that are not paid for WILL NOT BE ORDERED. As always, we recommend that parents put costumes deposits down before the letters are sent home so the costumes are not a financial burden before the holiday season. You do not need to make a huge deposit, but every dollar deposited now means less you will have to pay later.

Niagara Dance Merchandise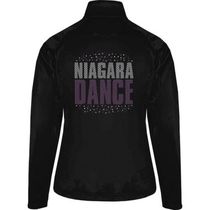 Now you can easily order merchandise online and have it sent directly to your house! Sample items are available to view at the studio.
To check out or purchase our new merchandise, just click: ​
http://teamstore.gtmsportswear.com/NiagaraDance
We also have our older merchandise on sale. Quantities of each are limited and all items are sold on a first-come, first-serve basis. Click here for a
price list
of available items.
---
Our Dance Family
We want to thank our returning students and families for believing in us because your support has helped us become what we are today. We are fortunate have such talented people associated with our studio!

If you are new to Niagara Dance Centre, we wish to extend a warm welcome. We appreciate the opportunity to work with you and your children and hope you will join our "family." It is our quest to see that every student has a positive experience.