Spring is in the Air!!!
RECITAL FEES
are due the first week of April. If you have not paid your family recital fee of $25 yet, please be sure to get it in. Your student passes and four (4) tickets will be passed out in May to each family who has paid the recital fee with the recital information packet. Tickets will not be passed out to any family with an outstanding balance on their account. When your balance is paid, you will receive your tickets. Call Miss Jessica at home, 283-1978 if you have questions on your account. Additional tickets will be available at the studio at a cost of $7 each.
DANCE PHOTOS
will be taken at the studio on Friday, April 24th and Friday, May 15th, 2015, starting at 5:00 p.m. by Territo Photography. Price information and sample photos are on display at the studio. Please sign up for a time slot at the studio.
GRAND FINALE ROUTINE:
All students are invited to perform in our Finale at the end of the show. Since we perform in the afternoon, our little ones are still going strong enough to enjoy the big production number that is our signature. Our finale this year will be a mix of dance related songs. We will be wearing our 2015 recital t-shirt, black bottoms, and jazz shoes.
PROGRAM PATRONS
are a great way to cheer on your special dancers. We are more than happy to create a patron for you or use what you give us. Print a form out
HERE
.
DRESS REHEARSALS
are held at the studio during your regular class times in between May 6th and May 18th. Check the schedule in the "
Recital 2015
" section for your time and other details.
Niagara Dance Centre Make-Up Classes! - UPDATED 3/13/15
SPRING BREAK MAKEUPS!
March 30 – Miss Lorrina's Cheerdance, Contemporary, and Hip-hop Classes (Regular Class Times) 5:30 – 8:45PM
March 30 – Miss Jennifer's Hip-hop Classes (Regular Class Times) 6:15 – 8:45PM
March 31 - Junior Competition Team 6:00-8:00 PM
March 31 - Senior Competition Team 8:00-9:00 PM
April 2 – Miss Megan's Thursday classes (Regular Class Times) 4:30 – 9:00PM
April 4 – Ballet Tech/Jump, Turn Stretch (Regular Class Times) 11:30 – 3:00PM

April 10 - Junior Competition Team 6:00-8:00 PM (Tentative) April 10 – Miss Cathy's Thursday 5:00 Class at 5:00 – 6:30PM
April 17 - Miss Cathy's Saturday 9:00 Class at 5:00 – 6:30PM
April 24- Miss Cathy's Saturday 10:45 Class at 5:00 – 6:30PM TENTATIVE
May 1 - Miss Cathy's Saturday 12:30 Class at 5:00 – 6:30PM


Makeups to be announced:
*Miss Jennifer will be announcing a Sunday makeup for her Monday night classes.
*Miss Lorrina will be announcing a Sunday makeup for her Monday night classes.
*Miss Megan will be announcing a Sunday makeup in mid-late April for her Thursday night classes.
Recital 2015 - Our 25th Annual Recital! - #NDC25
"Memories", our 2015 recital, will take place on June 13, 2015! The recital will be at N.F.H.S., curtain time 12:00 p.m. Costumes are ordered and arriving, music is cut, the costume book is at the studio and available under the "Recital 2015" tab and class practice CDs are coming out! The finale song is still to be decided but will be a compilation of songs that fit the theme of the recital. Detailed information packages will be distributed in May. - BE SURE TO READ THEM CAREFULLY!

Information always changes from year-to-year; be sure to read everything and pay attention to details to keep track of the numerous events (stage rehearsal, picture day, and in-studio dress rehearsals.) As always, if you have any questions about dates and times, feel free to ask Miss Jessica or your child's teacher.

Our recital is set for a Saturday, June 13th, 2015.
Stage rehearsal is set for a Monday, June 8th, 2015.
---
Niagara Dance Merchandise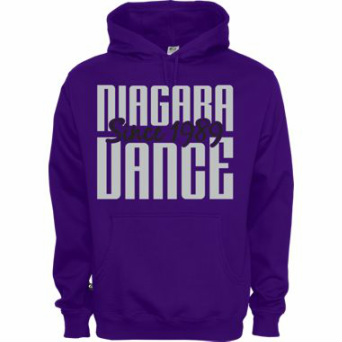 It's hard to believe, but Niagara Dance opened in August of 1989 and this is our silver anniversary season! We have a lot of surprises in store for our dancers this season including limited edition Niagara Dance Centre 25th Anniversary merchandise at our online GTM store. Now you can easily order merchandise online and have it sent directly to your house! Sample items are available to view at the studio.
To check out or purchase our new merchandise, just click: ​
http://teamstore.gtmsportswear.com/NiagaraDance
We also have our older merchandise on sale. Quantities of each are limited and all items are sold on a first-come, first-serve basis. Click here for a
price list
of available items.
---
Our Dance Family
We want to thank our returning students and families for believing in us because your support has helped us become what we are today. We are fortunate have such talented people associated with our studio!

If you are new to Niagara Dance Centre, we wish to extend a warm welcome. We appreciate the opportunity to work with you and your children and hope you will join our "family." It is our quest to see that every student has a positive experience.