Recital 2015 - Our 25th Annual Recital!
Costume detail sheets and balances due have been sent home! Please read these sheets carefully and call Miss Jessica right away if you have any questions. Remember that costume balances are due Saturday, December 20th, before winter break starts. Costumes that are not paid for at this time will NOT be ordered!

Save the information for reference and note the exact amount due. Additional information will be posted on our website under the "Recital 2015" tab during the Winter Break.

Our recital is tentatively set for a Saturday, June 13th, 2015.
Stage rehearsal is tentatively set for a Monday, June 8th, 2015.

2015 Recital Production Number - "Hair"
We are still looking for dancers for our production number in our 25th annual recital. We are excited to put together a big production number for our 25th Anniversary Recital, but what we really need to do it is participation!
See out
production information sheet
for dates and times. Attendance at ALL rehearsals will be
MANDATORY
. We understand that life does get in the way, and ask that you speak with Miss Lorrina or Miss Jennifer if you do need to miss a class. Please note that only two absences will be allowed throughout the duration of these rehearsals. This is a big number with (hopefully) lots of dancers, and frequent absences place a burden on the teachers, the group, and your dancer to catch up. Again, the above dates are tentative and a more concrete schedule will be sent out in January once we have an exact number of dancers.
Cost: $150.00 -
This fee is all inclusive – costume, props, class time, studio time and teacher time. A non-refundable deposit of $75.00 is due by
December 20th
if you choose to participate in the number so we can order your costume. The remaining $75.00 will be due on
February 15th, 2015
.
We know this is a lot of information! Please review our
production information sheet
and feel free to ask Miss Lorrina or Miss Jennifer any questions you may have. Please notify us by December 15th by turning in the form below with your first payment if you would like to participate! We are sorry, but we will NOT be accepting dancers after December 15th because costumes will be ordered.
#niagaradance2014 Instagram Winner!
Congratulations to @dannialice whose picture was unanimously selected by the staff of Niagara Dance Centre as the winner of our #NiagaraDance2014 Instagram contest! We loved that the picture showed moms and aunts united to make our 2014 recital special for our students! We know how much work our moms and other family members put into getting everyone ready for recital and we truly appreciate everything they do for our students.


We love to see what your dance experience is like so keep posting pictures to #NiagaraDance2014 or #ndctribe! You never know when the next contest will happen!
---
Niagara Dance Merchandise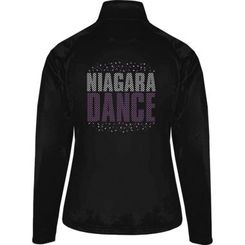 It's hard to believe, but Niagara Dance opened in August of 1989 and this is our silver anniversary season! We have a lot of surprises in store for our dancers this season including limited edition Niagara Dance Centre 25th Anniversary merchandise at our online GTM store. Now you can easily order merchandise online and have it sent directly to your house! Sample items are available to view at the studio.
To check out or purchase our new merchandise, just click: ​
http://teamstore.gtmsportswear.com/NiagaraDance
We also have our older merchandise on sale. Quantities of each are limited and all items are sold on a first-come, first-serve basis. Click here for a
price list
of available items.
---
Our Dance Family
We want to thank our returning students and families for believing in us because your support has helped us become what we are today. We are fortunate have such talented people associated with our studio!

If you are new to Niagara Dance Centre, we wish to extend a warm welcome. We appreciate the opportunity to work with you and your children and hope you will join our "family." It is our quest to see that every student has a positive experience.