Early Registration is Almost OVER!!!
… GOOD NEWS
: Registration and tuition fees have not changed and if we receive your registration before July 31, 2015, you will receive a
$10 voucher
toward your December tuition – the month you need it most – or for the year-in-full tuition payment! Also, if you pay for the season in full by the first lesson in September, you will receive a
5% discount
off the year and we still have our recommendation discount: we will send you a $10 certificate for every family who joins Niagara Dance based on your recommendation. Please review the
brochure
carefully or print our
registration form
and be sure to get your registration mailed in to the studio by July 31st for your discount.
Remember that you can also visit us Wednesday, July 22nd from 6:00PM - 8:00PM
to talk to the teachers, prepare for the start of the new season, get your tuition voucher, and watch Miss Amy's ballet technique and jump, turn, stretch class.
Summer is in Full Swing!
This summer we are offering an array of exciting classes including the return of Miss Cathy's summer dance camps this year! It will be a great chance to learn new skills while brushing up on some old ones. Class information is located on the
Summer 2015
tab at the top of our website. Summer courses are a perfect way to maintain your progress, experience new dance styles, and continue to grow as a dancer. All are welcome and we look forward to dancing with you this summer!
Competition Team Updates
Congratulations to our 2014-2015 competition teams. Senior team members
: Lindsey Clark, Nina Frye, Kaitlyn Ivancic, Madison King, Kelsie Kupiec, Avery Mannex, and Samantha Mort who performed "Another Story," "Anything Could Happen," and "Gimme One Reason."
Junior team members
: Kennedy Bleecher, Victoria Goupil, Jenna Hiscock, Jordan Hiscock, and Alexa Richner for performed "Being for the Benefit of Mr. Kite," "Black Cat" and "The Dance".
Competition Specialty Numbers:
Kennedy Bleecher and Kaitlyn Ivancic with "White Coats,"
Lindsey Clark with "Can't Rely On You," Nina Frye with "Apologize," Madison King with "Shut Up and Dance," Kelsie Kupiec with "Not Like the Movies," and Avery Mannex with "Carousel."
Starpower Competition May 1st-3rd
: Our junior team's and senior team's dances both scored 4 and 3/4 stars out of 5. Junior team received two top ten spots in a very competitive division and senior team received three top seven spots out of twelve numbers in their division. Our soloists and duet grabbed four top ten spots, Nina received a special award, and the dances scored 4 1/2 and 4 3/4 stars out of 5.
Onstage New York May 8th-9th:
Both the junior and senior team walked away with multiple gold awards for their numbers, multiple top 10 spots including "Gimmie One Reason" scoring 1st in its division, and two critics choice nominations. Our soloists and duet all scored gold and a top seven overall high score.
Starbound May 23rd:
What a fantastic weekend!!! High gold scores all around for our groups and soloists, 2 judges awards for "Gimmie One Reason" and Being for the Benefit of Mr. Kite," and 5 top score awards including the top teen competitive score for "Being for the Benefit of Mr. Kite!"
Interested In Joining Competition Team?
We are looking for new members for our competition teams. Any interested students should submit their names to Miss Jessica by phone or e-mail by August 15, 2015. Please read over
this letter
to help make an informed decision about competition team.
Niagara Dance Merchandise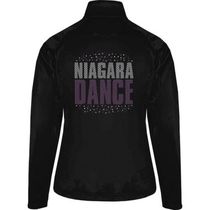 Now you can easily order merchandise online and have it sent directly to your house! Sample items are available to view at the studio.
To check out or purchase our new merchandise, just click: ​
http://teamstore.gtmsportswear.com/NiagaraDance
We also have our older merchandise on sale. Quantities of each are limited and all items are sold on a first-come, first-serve basis. Click here for a
price list
of available items.
---
Our Dance Family
We want to thank our returning students and families for believing in us because your support has helped us become what we are today. We are fortunate have such talented people associated with our studio!

If you are new to Niagara Dance Centre, we wish to extend a warm welcome. We appreciate the opportunity to work with you and your children and hope you will join our "family." It is our quest to see that every student has a positive experience.